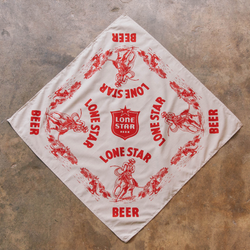 Armadilla Roper Bandana - Red
This ain't your average bandana. This was very special process of sourcing the softest Poplin fabric along with hand cutting and machine sewing each bandana. These are printed with waterbased ink allowing the print to become one with the fabric. Imagine you Grandpa's hanky or a relic found at Style Station...this is an heirloom piece that is meant to be coveted. Cheers Y'all!
100% Soft Poplin Cotton

Cut and Sewn Bandana 

Made in Dallas, Texas
Waterbased Screen Printed in Fort Worth, Texas
21" x 21"